Whitehall, Pennsylvania plumbing, drain cleaning, rooter service and water heater services
Big or small, we handle it all. Robinson Plumbing is your complete resource for everything from kitchen/bathroom remodeling jobs to running toilets, dripping faucets and everything in between. All of our technicians take pride in delivering quality, on-time service. Your home or business will be left spotless when we are done. Best of all, you'll know that you received the best pricing for your plumbing project.
Plumbing services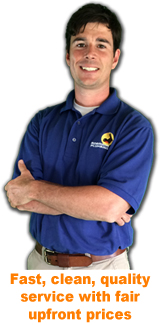 Water heaters
Tankless water heaters
Leak repairs
Faucet repairs
Fixture installation
Garbage Disposals
Gas lines
Well pumps and tanks
Sump pumps
Back flow prevention
Water softeners
Water purification/filtration
Frozen pipes
Drain cleaning and rooter service
Rooter service
Sewer line repair
Drain cleaning and clogged drains
Remodeling services
Kitchen Remodeling
Bathroom Remodeling
Whitehall PA plumbing, drain cleaning, rooter service and water heater services.
Robinson plumbing is prompt, professional, and competitive. Matt does an excellent job, I wouldn't call anyone else.
Fun facts about Whitehall:
Where does the name Whitehall come from? Whitehall was named after a literal white hall built in the 1700s as a hunting lodge. This was central to the area since Whitehall has a large wildlife population including, ruffled grouse, white tail deer, eastern wolves, eastern elk, and black bear. Also, did you know that major league baseball player, Curt Simmons is from Whitehall? He played for the Philadelphia Phillies, St. Louis Cardinals, Chicago Cubs, and California Angels.
Click to return to our service area page or our page of plumbing services.