Salisbury, Pennsylvania plumbing, drain cleaning, rooter service and water heater services
Big or small, we handle it all. Robinson Plumbing is your complete resource for everything from kitchen/bathroom remodeling jobs to running toilets, dripping faucets and everything in between. All of our technicians take pride in delivering quality, on-time service. Your home or business will be left spotless when we are done. Best of all, you'll know that you received the best pricing for your Salisbury PA plumbing project.
Plumbing services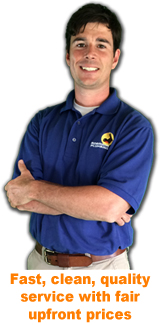 Water heaters
Tankless water heaters
Leak repairs
Faucet repairs
Fixture installation
Garbage Disposals
Gas lines
Well pumps and tanks
Sump pumps
Back flow prevention
Water softeners
Water purification/filtration
Frozen pipes
Drain cleaning and rooter service
Rooter service
Sewer line repair
Drain cleaning and clogged drains
Remodeling services
Kitchen Remodeling
Bathroom Remodeling
Salisbury PA plumbing, drain cleaning, rooter service and water heater services.
I called AJS plumbing and they wanted $255 to fix my toilet, and they also really tried hard to get me to purchase a whole new toilet. When Robinson called me back, they quoted me at $125 to fix the toilet. They came within 36 hours and were quick, professional, friendly, and efficient. My toilet works and it wasn't a dime over the estimated $125. We didn't have Matt, but rather some other dude whose name I don't remember.
Fun facts about Salisbury:
Did you know that Salisbury was originally named Salsburrich due to the high level of salt deposits in the area? Joseph Markley founded Salisbury in 1794. the total area of the borough is 0.4 square miles with a population of about 900.
Click to return to our service area page or our page of plumbing services.