Palmer, Pennsylvania plumbing, drain cleaning, rooter service and water heater services
Big or small, we handle it all. Robinson Plumbing is your complete resource for everything from kitchen/bathroom remodeling jobs to running toilets, dripping faucets and everything in between. All of our technicians take pride in delivering quality, on-time service. Your home or business will be left spotless when we are done. Best of all, you'll know that you received the best pricing for your Palmer PA plumbing project.
Plumbing services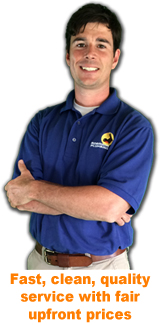 Water heaters
Tankless water heaters
Leak repairs
Faucet repairs
Fixture installation
Garbage Disposals
Gas lines
Well pumps and tanks
Sump pumps
Back flow prevention
Water softeners
Water purification/filtration
Frozen pipes
Drain cleaning and rooter service
Rooter service
Sewer line repair
Drain cleaning and clogged drains
Remodeling services
Kitchen Remodeling
Bathroom Remodeling
Palmer PA plumbing, drain cleaning, rooter service and water heater services.
All around great experience. Efficient work, fair price, and came over 2 or maybe 3 hours after I called. Matt was professional yet still explained exactly what the problem was and what the work would entail, and left everything tidy when he was done. I'm looking to install an high efficiency on-demand water heating system later this year, and I will certainly be calling Robinson Plumbing for the upgrade.
Fun facts about Palmer:
Palmer has a area of 10.7 square miles with a population of 20,691 people. It's fist inhabitants where the Lenape Native Americans. The land eventually became a part of the area given to William Penn by King Charles II in 1680. Then, in the 1740's, the German Moravians settled in the area. Palmer is bordered by Bushkill Creek and the Lehigh River that are used for fishing and recreation.
Click to return to our service area page or our page of plumbing services.