Macungie, Pennsylvania plumbing, drain cleaning, rooter service and water heater services
Big or small, we handle it all. Robinson Plumbing is your complete resource for everything from kitchen/bathroom remodeling jobs to running toilets, dripping faucets and everything in between. All of our technicians take pride in delivering quality, on-time service. Your home or business will be left spotless when we are done. Best of all, you'll know that you received the best pricing for your Macungie PA plumbing project.
Plumbing services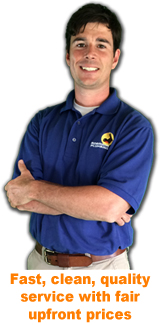 Water heaters
Tankless water heaters
Leak repairs
Faucet repairs
Fixture installation
Garbage Disposals
Gas lines
Well pumps and tanks
Sump pumps
Back flow prevention
Water softeners
Water purification/filtration
Frozen pipes
Drain cleaning and rooter service
Rooter service
Sewer line repair
Drain cleaning and clogged drains
Remodeling services
Kitchen Remodeling
Bathroom Remodeling
Macungie PA plumbing, drain cleaning, rooter service and water heater services.
Speedy & reasonably priced. These guys came out on Christmas day to fix a clogged garbage disposal and pretty much saved the day. Their website says 25/7, 365, and they really mean it!
Fun facts about Macungie:
Macunie is a mostly suburban area located in Lehigh County. Actress Christine Taylor, who played Marcia Brady, grew up in Macungie. Did you know that the name Macungie comes from the Lenape word "Maguntsche"? "Maguntsche" means "bear swamp" or "feeding place of the bears". Macungie is even home to the renowned Bear Creek Mountain Resort.
Click to return to our service area page or our page of plumbing services.