Hanover, Pennsylvania plumbing, drain cleaning, rooter service and water heater services
Big or small, we handle it all. Robinson Plumbing is your complete resource for everything from kitchen/bathroom remodeling jobs to running toilets, dripping faucets and everything in between. All of our technicians take pride in delivering quality, on-time service. Your home or business will be left spotless when we are done. Best of all, you'll know that you received the best pricing for your Hanover PA plumbing project.
Plumbing services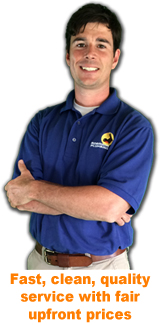 Water heaters
Tankless water heaters
Leak repairs
Faucet repairs
Fixture installation
Garbage Disposals
Gas lines
Well pumps and tanks
Sump pumps
Back flow prevention
Water softeners
Water purification/filtration
Frozen pipes
Drain cleaning and rooter service
Rooter service
Sewer line repair
Drain cleaning and clogged drains
Remodeling services
Kitchen Remodeling
Bathroom Remodeling
Hanover PA plumbing, drain cleaning, rooter service and water heater services.
There is a reason that Robinson Plumbing is stored in my cellphone and that is their timely, reliable and reasonably priced services are second to none. I have used their services many times over the years, for a variety of plumbing problems, and always have the peace of mind knowing the job will be done right. Highest recommendation.
Fun facts about Hanover:
Did you know that Hanover was home to an inn, The Sign of the Horse, which Thomas Jefferson once stayed in? Jefferson was on his way to Philadelphia where he would begin to draft the Declaration of Independence. Hanover is also notable for it's famous industries. Hanover is home to the pretzel company Snyder's of Hanover. Also founded in Hanover is the UTZ Potato Chip factory. Hanover has been featured on the Food Network various times.
Click to return to our service area page or our page of plumbing services.