Easton, Pennsylvania plumbing, drain cleaning, rooter service and water heater services
Big or small, we handle it all. Robinson Plumbing is your complete resource for everything from kitchen/bathroom remodeling jobs to running toilets, dripping faucets and everything in between. All of our technicians take pride in delivering quality, on-time service. Your home or business will be left spotless when we are done. Best of all, you'll know that you received the best pricing for your Easton PA plumbing project.
Plumbing services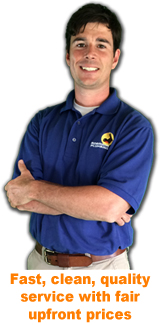 Water heaters
Tankless water heaters
Leak repairs
Faucet repairs
Fixture installation
Garbage Disposals
Gas lines
Well pumps and tanks
Sump pumps
Back flow prevention
Water softeners
Water purification/filtration
Frozen pipes
Drain cleaning and rooter service
Rooter service
Sewer line repair
Drain cleaning and clogged drains
Remodeling services
Kitchen Remodeling
Bathroom Remodeling
Easton PA plumbing, drain cleaning, rooter service and water heater services.
We couldn't have hoped for a better experience! One of our sink drains was leaking and we could see the problem was beyond our expertise. We called Robinson Plumbing for help. The gentleman came to the door at the early end of the two hour window we were given, which was a great start! He diagnosed the problem, clearly explained what the problem was and how he would need to repair it. He then gave an estimate and an explanation of what could go wrong and an approximation of how much more it would cost if that happened. He completed the work, walked us through the bill (slightly lower than the estimate!) and demonstrated a drain that works better than the day we moved in. I had to write a review immediately, as he left me trying to think of other plumbing concerns I would like him to fix! I highly recommend Robinson Plumbing for their efficiency, professionalism and reasonable charges.
Fun facts about Easton, Pennsylvania:
Easton has been around for a long time. In fact, it was one of three locations for the original readings of the Declaration of Independence. Each year Easton celebrates this historic event on Heritage Day as thousands join to reenact the reading. Located on the Delaware River, Easton was also a large influence in the industrial revolution. Today, Easton is home to the Crayola Factory and National Canal Museum.
Click to return to our service area page or our page of plumbing services.