Allentown, Pennsylvania plumbing, drain cleaning, rooter service and water heater services
Big or small, we handle it all. Robinson Plumbing is your complete resource for everything from kitchen/bathroom remodeling jobs to running toilets, dripping faucets and everything in between. All of our technicians take pride in delivering quality, on-time service. Your home or business will be left spotless when we are done. Best of all, you'll know that you received the best pricing for your Allentown PA plumbing project.
Plumbing services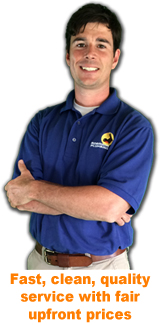 Water heaters
Tankless water heaters
Leak repairs
Faucet repairs
Fixture installation
Garbage Disposals
Gas lines
Well pumps and tanks
Sump pumps
Back flow prevention
Water softeners
Water purification/filtration
Frozen pipes
Drain cleaning and rooter service
Rooter service
Sewer line repair
Drain cleaning and clogged drains
Remodeling services
Kitchen Remodeling
Bathroom Remodeling
Allentown PA plumbing, drain cleaning, rooter service and water heater services.
This was my first experience using Robinson Plumbing, and I couldn't be happier. I called them at noon, explained my problem to Matt (a badly clogged kitchen drain), Jordon was at my house by 12:45 and had cleared the drain and snaked the entire line by 1:30; 15 minutes to clean up and do the paperwork and the whole thing was done by 1:45. Jordon was personable and professional (and called around 12:30 to tell me he expected to be at my house by around 12:40, which was a courtesy I really appreciated). And the work was done for a very fair price – much less than what I had expected I was going to have to pay someone. They will be the company I call whenever I have a plumbing problem, and I whole-heartedly recommend them to others.
Fun facts about Allentown:
Did you know that the former Chrysler Corporation chairman, Lee Iacocca, attended William Allen High School? And the High School and the city was named after it's founder, William Allen. Another interesting fact is that at the time the PPL building was constructed in 1928, it had the world's fastest elevators. To this day, the PPL building is still the tallest building in the Lehigh Valley.
Click to return to our Service Area page or our page of plumbing services.