Save $40.00 on new hot water heater installations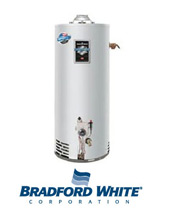 How old is your water heater? Is it more than 10 years old?
Are you noticing that you're just not getting as much hot water as you used to?
​Maybe your water is not staying hot enough for a long enough period of time.
Did you know that you might be spending too much money on your energy bills due to old, inefficient hot water heaters?
When it comes to choosing a hot water heater, there are many options. Selecting the best water heater for your specific needs and lifestyle can help you save money and ensure it will perform well for many years to come. The staff at Robinson Plumbing are experts and will help you choose the best water heater for your specific needs.
Selecting a water heater
When shopping for a new hot water heater, make sure that you select the best one based on style, price and quality. Matching the correct style heater to your needs is important and equally important is choosing a high quality hot water heater.  We offer a wide selection of hot water heaters and water softeners. Our staff will help you decide which one best fits your individual needs.
Water heater installation
There is nothing worse than taking a cold shower! Our professional plumbers will handle the installation of your water heater so you don't run into any problems. Our water heaters are installed correctly the first time, so you can rest assured that your home or business will have hot water when it is needed.
Water heater repairs
If you are experiencing hot water problems, don't hesitate to call Robinson Plumbing at (610) 351-9889. Our water heater professionals can repair it for you quickly and efficiently. Call us if your water heater completely stops working or is just not performing to the level that you are accustomed to.
We called Robinson Plumbing Services for a quote after calling about 10 other plumbers and places like Sears and Home Depot. Matt is the owner and he gave us the best price for a quality Bradford White gas water heater with installation. Within 30 minutes they were at our door. They took about an hour and a half and were done. Courteous, friendly, honest, professional, very good price!!! We were very impressed! This is a local guy, privately owned. He personally guaranteed the water heater for the first year: anything happens and he will come and replace it with no questions. We have a 6 year warranty from the company, but this extra bonus is peace of mind! You can't ask for more than that! If you need a plumber, look no further.
Return to our Services page.